Creating Opportunities For And With People
Since 1987, RISE has provided practical, professional, and personal growth opportunities for children, adults, and their families. With our innovative approach, we are dedicated to transforming the lives of the individuals and families we serve through the delivery of person-centered services.
Our services have expanded from moving individuals living in institutions to family settings into supporting adults and children with highly diverse support needs in a wide variety of homes and community-based settings.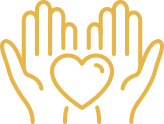 our mission
Creating opportunities for and with people. Since 1987, RISE has been changing lives with quality services and programs for individuals and families.
our services
RISE provides services that support children, adults, and families throughout Arizona, Utah, Oregon, and Idaho.

our values
Committed to safety, equality, and choice, we place service above self and encourage our team members to do all they can to exceed expectations.
our vision
To support the total person physically, mentally, emotionally, socially, and spiritually.
WHAT'S IT LIKE TO
WORK AT RISE? READ OUR SUCCESS STORIES!
My Dream Job
"I joined Rise over four years ago and enjoy what I do everyday. This is my dream job. I was going to school to become a teacher when the Rise door opened for me and I haven't been disappointed since I started working for this great company."
Part of an Amazing Team
"Being a part of the Idaho team is like being a part of a family. I feel at home and love coming to work here everyday. When I moved away to a different state and came back to Idaho I knew this was where I was meant to be. I'm part of such an amazing team, from my co-workers to clients and families, and they are what make this job so great. I wouldn't want to work anywhere else!"
Quality Life Changing Services
"I started at RISE with little experience and a huge passion to help children with disabilities. The team welcomed me with open arms. Since day one I have felt so supported by my supervisors and coworkers. Through the connections I have developed with my participants, I constantly see the value I have in their lives and the value they have in mine. They help me see a different perspective in life, one where I can laugh for no reason and appreciate the small things. I am proud to be part of a program that not only provides quality life changing services but also values each individual whether they are receiving or giving services."